Monday – Friday by appointment only
2611 Thomas Jefferson Parkway
Palmyra, VA 22963
Need to make an appointment?
Click here to self-schedule an appointment. This allows the most convenience for you to look at your schedule and find a time that truly works best for you.

Call or text the clinic to talk to someone directly and schedule your appointment.
Primary Care
Primary care for all ages treating chronic conditions along the spectrum of life with individual plan of care and goal setting.

Sports/Work Physicals
Sports physicals, pre-employment physicals, Department of Transportation physicals.

Telehealth
Convenient Telehealth services for non complex sick visits, follow ups, and medication refills.

Sick Visits
Sick visits available for children and adults. Lab services available along with in office rapid testing such as covid-19 antigen, strep, influenza, mono, etc.
Fluvanna Health Clinic was started in 2021 by Amy Beyer, certified Family Nurse Practitioner, with the goal of serving her local community. We provide quality and convenient care to all ages including primary care, sick visits, telehealth visits, physicals, medication refills, and drug screenings. We are conveniently located on Rt 53 near Fluvanna County High School at 2611 Thomas Jefferson Parkway Palmyra, VA 22963.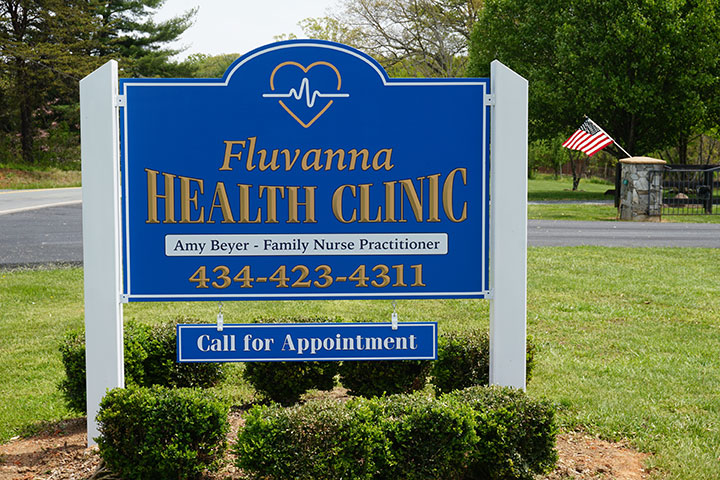 Meet Amy Beyer,
Family Nurse Practitioner
Amy grew up in Fluvanna County and went away to college at Liberty University. Upon completion of her Bachelor of Science in Nursing she came back to Fluvanna and married her husband Stephen Beyer, another lifelong Fluco. After working for several years at UVA Amy decided to continue her education at James Madison University and obtained her Master of Science in Nursing degree and became a Family Nurse Practitioner.
Amy Beyer is the owner and founder of Fluvanna Health Clinic. Amy is a board certified autonomous nurse practitioner and has been working as a Family Nurse Practitioner since 2014. She has experience working with all ages, providing services in urgent care, post acute rehab, and long term care settings. Her passion is to serve the community she grew up in and make a difference in the lives of her neighbors. In Amy's free time she can be found at the soccer field watching her son play, volunteering, or planning for her yearly medical mission trips to Liberia.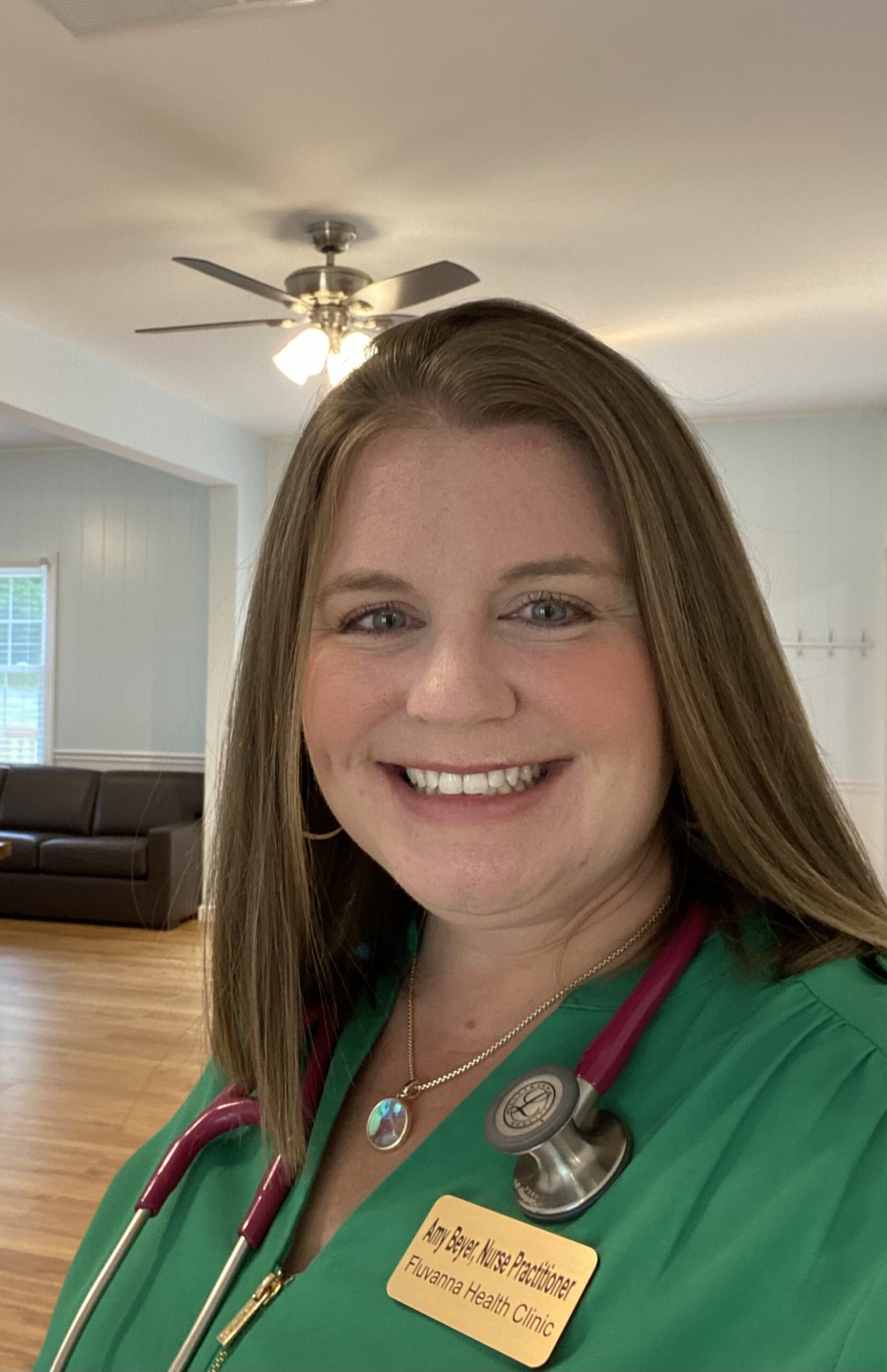 Fluvanna Health Clinic accepts Medicare and most major insurance plans. It is the patient's responsibility to call their health insurance company to verify in network vs out of network status prior to their first clinic appointment. 
Out of pockets costs can be paid with cash or card, including Health Savings Accounts.
No insurance? No problem. Fluvanna Health Clinic and Fluvanna Health and Wellness are working together to meet our community's healthcare needs.
Fluvanna Health and Wellness (located inside Fluvanna Health Clinic) offers several services at a fee for service price. If you don't have health insurance or you are looking for a service not covered by your health insurance, please visit their website. Or if you are an employer looking for a community health partner please click here to explore their website.
https://fluvannawellness.com/
I have always been so impressed by and pleased with the care I receive from Amy Beyer. She is professional, knowledgeable, incredibly welcoming, and accommodating. I love that she also uses her expertise and experience to serve our community and even other continents! She is invested in her work, and it shows. I am blown away by the beautiful clinic she has established here in Fluvanna County, and I would highly recommend her practice to my friends and family!
Nikki Tardiff

Address
2611 Thomas Jefferson Parkway
Palmyra, VA 22963

Phone
434 423 4311
Fax 434 404 4648